Kitsap County Medical Malpractice Attorneys
What is Medical Malpractice?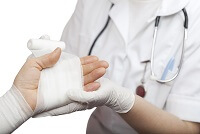 When you go to see a medical professional, you expect them to provide a certain level of care and treat the condition that's ailing you. Unfortunately, not all doctors, dentists, nurses, or other health care practitioners adhere to the standards expected of them in their field. When these individuals perform below the standard, and their negligence causes you harm, you may have a medical malpractice claim. That means you could hold the practitioner financially responsible for any injury they caused you.
Medical malpractice claims are not always easy to navigate. They require a solid understanding of the laws as well as the expectations of care in the medical field. If you or a loved one was injured because of a doctor's negligence, reach out to Glisson & Morris. Our attorneys are well-versed in the legal process, and we can help you understand what to expect and how to pursue your claim. Backed by over 4 decades of combined experience, we know what it takes to develop a compelling legal strategy, and we will seek fair compensation on your behalf.
Allow us to provide the legal representation you need to hold a negligent health care professional responsible for damages. Contact Glisson & Morris online or call us at (360) 526-8191 for your free consultation!
Common Types of Medical Malpractice Claims
There are many different areas of the medical field, which means there are several types of negligence that could lead to a medical malpractice claim.
Below are some common types of medical malpractice:
Failure to diagnose: When a patient goes to a doctor with certain symptoms, the physician may run a series of analyses to determine the cause. Unfortunately, if the doctor performs below the standard of care and fails to diagnose a condition that an otherwise competent doctor would have, the patient could suffer greater harm.
Medication errors: This applies to the entire medication cycle, from the moment the doctor prescribes the drug to the pharmacist handing it off to the patient. If negligence occurs at any phase, serious or even fatal results could occur.
Surgical errors: Health care professionals must ensure they are performing operations on the right patient and the correct body part and are following proper procedures. A patient could have a medical malpractice claim if negligence causes something to go wrong during their surgery.
Anesthesiology errors: The anesthesiologist is responsible for ensuring the proper dosage is given to the patient, and they are monitoring them throughout the procedure. Errors that occur with the anesthesia could seriously injure the patient or even cause their death.
What Do I Have to Prove in a Medical Malpractice Claim?
To pursue a medical malpractice lawsuit, your claim must be more than that you were unhappy with the care you received.
Generally, in these types of cases, you must prove that:
A doctor-patient relationship existed
The doctor was negligent
Their negligence caused you harm
You suffered damages (expenses and losses) because of their negligence
Who Can Be Held Liable in a Medical Malpractice Case?
Several people, including licensed healthcare providers such as nurses, nurse practitioners, and physician's assistants can be help liable for medical malpractice. Because they are typically employed by a hospital or healthcare facility, both the individual or the institution can be held liable depending on the circumstances.
What is the Statute of Limitations for Medical Malpractice in WA?
In Washington, the statute of limitations for medical malpractice cases is as follows depending on whichever date is later:
Filing three years after the alleged medical error that caused your injury OR
Filing one year after you discovered or should have reasonably discovered that the medical error in question caused your injury/medical condition
Do keep in mind, that an experienced Kitsap County medical malpractice attorney can help you find out whether your case qualifies for any special extensions or deadlines. For example, let's say the injured patient was a minor who didn't disclose to the injury to a parent. The "discovery date" would be when the minor's parent or legal guardian initially learned about the malpractice. In any case, contact us to schedule a free consultation to determine what can be done to help you through this difficult time.
Helping You Pursue a Medical Malpractice Claim
At Glisson & Morris, our Kitsap County personal injury lawyers don't stand for negligent health care providers causing harm to patients, and we are committed to fighting hard to hold them responsible. When you hire us for your medical malpractice claim, we will conduct a thorough review of your case to build a compelling legal strategy. We know the experience can be stressful, painful, and upsetting, which is why we will handle every detail of your case, allowing you to focus on your wellbeing.
Share your story with our team and retain the legal help you need by calling us at (360) 526-8191 or contacting us online. We handle medical malpractice cases in Port Orchard and the surrounding areas. Free consultation.
Meet Our Dedicated Attorneys