Kitsap County Car Accident Lawyers
Holding the At-Fault Driver Financially Responsible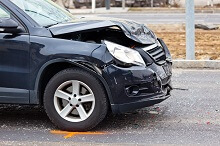 In 2019, there were over 103,000 automobile accidents throughout the state of Washington. Of those, nearly 2,000 resulted in serious injury, and almost 500 resulted in death. The sad fact is that the likelihood of being in a traffic collision is high. If you or a loved one was harmed after a car crash caused by someone else, you might be entitled to compensation for damages. Although no amount of money can erase what happened, it can help you get the care you need.
Pursuing a car accident claim isn't always easy, as there are various laws you must abide by. At Glisson & Morris, our attorneys have over 4 decades of combined experience, and we have handled numerous cases in Port Orchard and the surrounding areas. We can help you navigate the complexities of the legal process after a car collision, providing sound guidance and updates about your case along the way. We know the financial and emotional burdens that can result from an accident, and we will work toward obtaining just compensation on your behalf.
To speak with a Kitsap County car accident attorney during a free consultation, call (360) 526-8191 or contact Glisson & Morris online today.
What Damages Can I Recover After a Car Accident?
After a car accident, you might suffer various losses and expenses. If another driver was at fault, they could be held financially responsible for the costs you incurred.
You may be able to recover economic and non-economic damages, including, but not limited to:
Lost wages
Medical expenses
Pain and suffering
Mental anguish
How Long Will It Take to Resolve My Car Accident Claim?
Because every car accident case is unique, there isn't a simple answer to how long the process will take.
One of the first steps is filing a claim with the at-fault driver's insurance company. It will then begin an investigation into the accident to determine whether or not their policyholder was responsible for the collision.
After the insurance company's investigation, it will go into negotiations with you and your Kitsap County attorney. Often, these companies focus on protecting their financial interests and will do what they can to pay out as little as possible or nothing at all. This is why it's crucial to have a lawyer with you who will be focused on protecting your best interests. At Glisson & Morris, that is exactly what we will do for you.
If you, your lawyer, and your insurance company are unable to negotiate a fair settlement, you might be able to pursue a lawsuit court. However, this can increase the time it takes to complete your case, as a judge or jury will decide on the outcome.
Schedule Your Free Consultation Today
After a car accident, you have a certain amount of time to file a claim. If you miss this deadline, your case may be dismissed. That's why it's important to speak with our personal injury attorneys at Glisson & Morris as soon as possible. We will ensure the correct paperwork is filed on time, and we will skillfully guide you from the beginning of your case until its conclusion.
We're ready to provide the compassionate yet aggressive legal representation you need. Call us at (360) 526-8191 or contact our Kitsap County car accident attorneys online for your free consultation.
Meet Our Dedicated Attorneys